I've long meant to take a closer look at MythTV, but I've never really had the time nor the hardware, so it's been just another project waiting in the pipeline. Besides, we've had a Nokia PVR for over ten years, so I've never had a real need either.
However, in late October 2012, our ancient Nokia Mediamaster 9902S finally decided to pack it in. It had been acting up in the afternoon, refusing to accept a programmed recording, but when we got back from having dinner at a friend's place, it plainly refused to do anything at all. We've had the Nokia Mediamaster since 2001, so eleven years and a few months. For consumer electronics, that's probably longer than expected, so I can't complain. To be honest though, it has at times been a love and hate relationship with the Nokia, but when it gave up last night and replacing the harddisk this morning did not provide any improvement, well, it was the end of an era. Anyway, enough about the Nokia, let me get back to the main topic. Earlier this year, probably around April, I did some experiments with MythTV as I had acquired a number of Hauppauge DVB-S receiver cards. Due to priorities, I didn't get very far, but it did more or less work.
With the Nokia now dead and the family without television, I quickly hauled a couple of PCs into the livingroom and got a MythTV backend+frontend setup running. Sunday evening we watched television on a laptop, fed by the MythTV backend! This was very encouraging, so over the next three weeks I continued to improve on the setup:
The MythTV frontend ended up on a suitably quiet IBM Thinkcentre 8212, a small form factor desktop PC. (I had picked up some of these for another project a while back). With a 2.5″ harddisk from a laptop, it makes virtually no sound at all. The MythTV backend box is another IBM Thinkcentre, but full size. It's really a bit bulky, but it has the needed PCI slots for the DVB-S receiver cards. In my earlier experiment I had equipped it with an elderly 300Gb Maxtor drive, but it was really a bit too noisy, so I replaced it with a 3Tb SATA Western Digital harddisk, that ought to be sufficient for a while 🙂
Our ageing Bang&Olufsen TV set, a ten year old Beovision 1, also finally got replaced – it only had S-video, SCART and coaxial inputs, none of which I could connect to the VGA output on the Thinkcentre. I had also long wanted to get a bigger TV, flat- and wide-screen etc., so this was the right opportunity. I ordered a new Toshiba 40″ with LED backlighting and a wall-mount.
Our existing satellite dish is unfortunately mounted on a Nokia Satscan motor, which is not DiSEqC compatible. I will eventually have to replace it I think, but as it is currently pointed at Astra 2 at 28.2°E, reception of english language TV (BBC, ITV, etc) is safe. To experiment with reception of German and Swiss TV, I was lucky to acquire a second satellite dish quite cheaply. After digging up otherwise long forgotten trigonometry, I got the second dish pointed at Astra 1 at 19.2°E and tuned into lots of German TV (ARD, ZDF, Pro7 etc). What is missing now is some Swiss TV. SFDRS broadcasts via Hotbird at 13°E, and I think I can get hold of that by using a dual-headed LNB.
Of course, in between fiddling with the hardware and looking after my day job, I also spent quite some time getting myself familiar with MythTV – the programme guide, recording, pausing, organising channel groups, making sure my DVB adapters always got the same numbering and so on. It's not all very intuitive, so it will take some getting used to.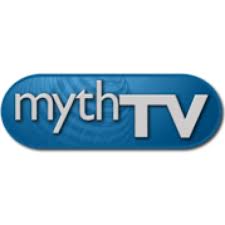 This weekend, now a full three weeks since the death of the Nokia, I re-arranged the aerial coax feeds and moved the MythTV backend into the back of the garage. It all went very smooth, no hiccups at all, so as of last night, we're now enjoying evening entertainment courtesy of MythTV.